Description
SR05 series is the most affordable range of pyranometers meeting ISO 9060 second class requirements. SR05 measures solar radiation received by a plane surface, in W/m², from a 180 ° field of view angle. It is ideal for general solar radiation measurements in (agro-)meteorological networks and PV monitoring. The pyranometer is easy to mount and install, in particular with SR05's ball levelling mechanism. Various outputs are available, both digital and analogue, for ease of integration. Version SR05-D2A2 offers Modbus over TTL and 4-20 mA output.
SR05 Pyranometer Mounting and Leveling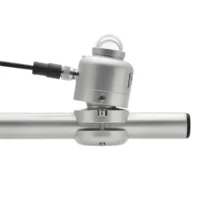 Optionally SR05 has a unique ball levelling mechanism and tube mount for easy mounting and levelling on a (non-)horizontal surface or tube. As is shown in the images.
Design and Output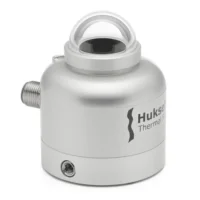 SR05 pyranometer employs a thermopile sensor with black coated surface, one dome and an anodised aluminium body with visible bubble level. SR05 has a variety of industry standard outputs, both digital and analogue:
SR05-D1A3: digital sensor with Modbus over RS-485 and analogue 0-1 V output
SR05-D2A2: digital sensor with Modbus over TTL and analogue 4–20 mA output
SR05-A1: analogue sensor with analogue millivolt output
Suggested Use
general solar radiation measurements
(agro-)meteorological networks
PV power plant monitoring
Areas of Application
Meteorology / surface energy flux measurement
Solar energy / PV system performance monitoring
Accessories
Specifications
Measurand
hemispherical solar radiation
ISO 9060:2018 classification
class C (second class)
IEC 61724-1:2017 compliance
class C
Application
PV monitoring commercial and utility scale, PV monitoring small sized
Heater
no
Output
0-1 V
Modbus RS-485
Calibration uncertainty
<1.8% (k=2)
Calibration traceability
to WRR
Spectral range (wavelength)
285 to 3000 ×10⁻³ m
Rated operating temp range
-40 to +80 °C
Standard cable length
3 m
Rated operating voltage
5 to 30 VDC
Levelling
ball leveling, optionally with tube mount
Digital output
:
Communication protocol
Modbus over 2-wire RS-485
Transmission mode
RTU
Baud rates
1200, 2400, 9600, 19200, 38400 and 115200
Compatibility
IMT-Solar Si-RS485TC-T-MB; other cells upon request
Analogue output
:
Voltage output
0 to 1 V cable lengths: 10, 20 m
Version order codes
SR05-D1A3-PV, SR05-D1A3-PV-BL, SR05-D1A3-PV-TMBL
Options
• Cable lengths: 10, 20 m
• Extension cable with connector pair: 10, 20 m
• With ball levelling (-BL)
• With ball levelling and tube mount  (for tube diameters 25 – 40 mm, -TMBL)
• PMF01 mounting fixture for Plane of Array installation
• Compatibility: SR05-D1A3-PV's Modbus interface is exchangeable with IMT-Solar Si- RS485TC-T-MB PV reference cell's interface. Other reference cells upon request.
Frequently asked questions