Description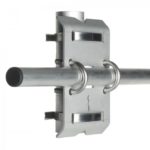 CMF01 Mounting Fixture

CMF01 is a practical mounting fixture for mounting a crossarm. The purpose of the crossarm  is to mount radiometers on a mast. The crossarm may serve to mount multiple instruments. The crossarm also creates some distance between the radiometer and mast, so that the mast does not cast a shadow and reflect radiation onto the instrument. A typical distance between mast and radiometer is 1.5 m.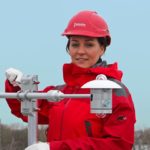 Most crossarms used in radiometry are mounted in the north-south direction so that the radiometer can be mounted towards the equator and a mast extending above the crossarm does not cast a shadow on the instrument.
In PV monitoring we also see crossarms oriented in the east-west direction to mount instruments for Global Horizontal Irradiance (GHI), Plane of Array Irradiance (POA), and Reflected Horizontal Irradiance (RHI).
Suggested Use
Meteorological Observations
PV Monitoring
Areas of Application
Building physics / insulation, thermal comfort, and energy budget measurement

Meteorology / surface energy flux measurement

Solar energy / PV system performance monitoring
Accessories
Specifications
| | |
| --- | --- |
| Mast compatibility | diameter (40 to 65) x 10⁻³ |
| Crossarm compatibility | 1 inch pipe length < 1.5 m |
| Maximum weight of CMF01 (at length of 1.5 m) | 2.5 kg |
| Options | There are other Hukseflux mounting options available for SR30, SR15, and SR05 pyranometers. They allow for simplified mounting, leveling, and instrument exchange on a flat surface or a tube, such as a crossarm. These mounts are optional with the purchase of these instruments. Alternatively, PMF01 and PMF02 brackets may be used for mounting any Hukseflux pyranometer on a mast, crossarm, or other mounting platforms. |
Frequently asked questions