Description
TPSYS20 is a user friendly system for the measurement of thermal conductivity using TP02 or TP08 thermal needle probes. The system is designed for high-accuracy measurements. It is particularly suitable for analysis of soils, thermal backfill materials, sediments, foodstuff, sludges, paints, glues and highly viscous fluids. The TPSYS20 thermal needle probe system is particularly suitable for thermal conductivity measurements in a laboratory environment.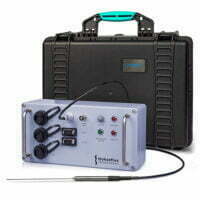 TPSYS20 is an accurate and user friendly system for measuring thermal conductivity. Its main components are the TP02 thermal needle probe (or its smaller equivalent, model TP08), the MCU Measurement and Control Unit and software. TP02 and TP08 are designed for measuring thermal conductivities in the range from 0.1 to 6.0 W/(m∙K).
The measurement principle is the transient line source technique, in which the thermal conductivity of a specimen is determined from the step response of the specimen temperature to heat from a linear heater. For details on TP02 or TP08, see the separate brochures. The MCU takes care of the measurement and control process and provides a convenient graphical user interface in the form of a web page.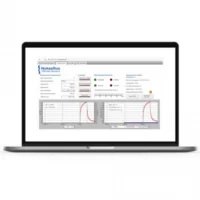 TPSYS20 is particularly suitable for thermal conductivity measurements in a laboratory environment. If needed, TPSYS20 can be powered from a 12 V battery, so that it may be used in the field. TPSYS20 is operated in conjunction with a PC. An intuitive and easy-to-use graphical user interface allows the user to set measurement parameters, control measurements, view measurement progress and view and download measurement data.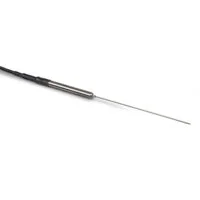 TPSYS20 is either delivered with a TP02 or a TP08 probe. TP02 is equipped with a reference temperature junction, located in the tip of the needle. This allows the temperature difference between the heated section of the needle and the reference junction to be measured. The use of a reference junction makes the thermal conductivity measurement much less sensitive to specimen temperature drift. For more details see the TP02 brochure.
TP08 is a shorter needle, which makes it an excellent alternative when only small amounts of sample material are available. TP08 does not have a reference temperature junction. For more details see the TP08 brochure.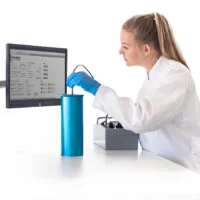 The measurement with TPSYS20 complies with the IEEE Guide for Soil Thermal Resistivity Measurements (IEEE 442-2017) as well as with ASTM D5334 – 14 Standard Test Method for Determination of Thermal Conductivity of Soil and Soft Rock. TPSYS20 is suitable for use by ISO certified laboratories.
TPSYS20 is primarily intended for laboratory use. For outdoor soil measurements Hukseflux recommends consulting the brochures of the more robust albeit less accurate FTN, MTN and TNS systems designed for outdoor use.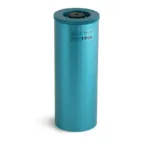 TPSYS20 is a complete measuring system. Several accessories are offered, including CRC series Calibration reference cylinders, a keyboard display and spare sets of needles and guiding tubes. For high-accuracy calibration, dedicated CRC01 Calibration Reference Cylinders are available. For insertion into hard material types or for casting into plastics, cement and backfill materials, GT Series Guiding tubes can be applied.
CRC01 – calibration reference cylinder for TP02 and TP08
GT01 – a spare set of 5 guiding tubes for TP08
GT02 – a spare set of 5 guiding tubes for TP02
CR1000KD – Campbell Scientific CR1000 keyboard display for controlling TPSYS20 MCU without a PC
TP02 – a spare thermal needle probe
TP08 – a spare thermal needle probe
Suggested Use
Thermal needle probe systems are particularly suitable for measuring the thermal conductivity of fine granular materials, powders, pastes, gels and highly viscous fluids in which a needle probe can be easily inserted. Harder materials such as rocks may also be measured provided that a hole can be drilled to insert the probe. Examples of typical specimen materials include soils, thermal backfill materials, sediments, foodstuff, sludges, paints and glues.
Areas of Application
Geotechnics / soil thermal route analysis
Material characterisation / thermal conductivity measurement
Specifications
Measurand
thermal conductivity, thermal resistivity
Measurement range
0.1 to 6 W/(m·K)
TPSYS20 specifications
:
Measurement uncertainty (depends on material type)
± (3 % + 0.02 W/(m·K)) (k = 2)
Measurement duration (typical)
3 to 10 minutes
Test methods
ASTM D5334 – 14; IEEE 442-2017; ASTM D5930 – 17
Probe supplied
TP02 or TP08
Heating cycle duration
200 s (typical)
Operating modes
• heating measurement only • heating and cooldown measurement
Rated operating temperature range
-55 to + 180 °C
Needle length TP02
150 mm
Needle length TP08
70 mm
Connection
to local area network (LAN) via Ethernet or directly to PC via USB
Graphical user interface
web page (via MCU)
Supported web browsers
Chrome 10; Firefox 4; Internet Explorer 9; Opera 11; Safari 5; or later
Rated operating voltage MCU
10 to 16 VDC
Rated operating temperature range MCU
-25 to +50 °C
Sampling rate
2 Hz
Input
100 to 240 VAC 50/60 Hz
Input plug
Type A/B (USA); Type C/F (EU); Type G (UK); Type I (AU)
Output
12 VDC 2.5 A
IP protection class
IP40
Options
TPSYS20-02, TPSYS20 with TP02 probe
TPSYS20-08, TPSYS20 with TP08 probe
Frequently asked questions
Hukseflux offers a wide range of products for material characterization and measurement of thermal conductivity.
We can offer assistance in choosing the right instrument. But first, you should ask yourself the following questions:
what material should be analyzed?
what are the conditions, for instance concerning temperature and pressure?
what specimens are available?
are there standards for my application?
what level of accuracy do I need?
Hukseflux is a leading manufacturer of thermal conductivity measuring systems and sensors. We have prepared a guide which may assist you in choosing the proper instrument for measuring thermal properties of your material, whether it is soil, plastics, paints, composites, pastes and fluids.
Hukseflux is able to offer highest quality products at an acceptable price level. If we cannot offer you an acceptable solution ourselves, we will tell you who can. Please contact us for further assistance.
Hukseflux sells a range of complete measuring systems including sensors and Measurement and Control Units (MCU). We offer systems and needle type thermal properties sensors for use in the field and for use in laboratory environments.
These thermal properties sensors, TP02 and TP08, are also available as separate probes for use with the user's own electronics, for instance Campbell Scientific CR1000.
Cannot find what you are looking for? Please contact us.
Expert training for system operators
Although in general the systems can be operated by following manuals and standards, we can provide you with expert training. Training vastly improves the level of service to the third party, the efficiency of working with the equipment and reduces the uncertainty of the end result.
Equipment rental
Unfortunately we have discontinued our rental services for all systems.