Description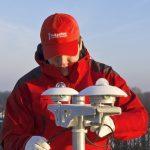 Best Data Availability
By keeping the SR25 outer dome free of dew and frost with help of the internal heater, data availability is highly increased over traditional pyranometers, whether these are ventilated or not. The application photo shows the clear difference between SR25 versus a non-heated pyranometer without sapphire dome.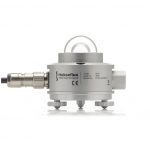 Best Measurement Accuracy
SR25 measures the solar radiation received by a plane surface, in W/m², from a 180 ° field of view angle. SR25 offers the best measurement accuracy: the specification limits of two major sources of measurement uncertainty have been greatly improved over competing pyranometers: "zero offset a" and temperature response.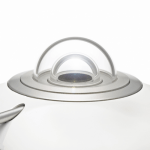 SR25 Design
SR25 has a sapphire outer dome, glass inner dome and an internal heater. It employs a state-of-the-art thermopile sensor with black coated surface and an anodized aluminum body. The connector, desiccant holder and sun screen fixation are very robust and designed for long term use.
Suggested Use
Diffuse measurements
All situations where ventilated pyranometers are employed
PV system performance monitoring
Indoor PV testing with solar simulators
Airborne measurements
Diffuse measurements
Environments with dew
Environments with frost
Areas of Application
Meteorology / surface energy flux measurement
Solar energy / PV system performance monitoring
Accessories
Specifications
| | |
| --- | --- |
| Measurand | hemispherical solar radiation |
| ISO 9060:2018 classification | spectrally flat Class A (secondary standard) |
| IEC 61724-1:2017 compliance | Class B |
| Application | National Meteorological NetworksPV monitoring commercial and utility scale, meteorology / climatology, other |
| Heater | yes |
| Output | mV |
| Zero offset a | 1 W/m² unventilated |
| Calibration traceability | to WRR |
| Spectral range | 285 to 3000 x 10⁻⁹ m |
| Sensitivity (nominal) | 15 x 10⁻⁶ V/(W/m²) |
| Rated operating temperature range | -40 to +80 °C |
| Temperature response | <± 1 % (-10 to +40 °C), <± 0.4 % (-30 to +50 °C) with correction in dataprocessing |
| Temperature response test of individual instrument | report included |
| Directional response test of individual instrument | report included |
| Temperature sensor | Pt100 or 10 kΩ thermistor |
| Standard cable length | 5 m |
| Version order codes | SR25-T1, SR25-T2 |
| Options | longer cable, in multiples of 5 metres |
Frequently asked questions