Description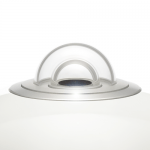 Extended Spectral Range
On top of the features and benefits of SR20 pyranometer, SR22 has an inner and outer dome made of high-quality quartz. This results in SR22's spectral range of 190 to 4000 x 10-9 m. SR22 covers the full solar spectrum, including the part between 3000 to 4000 x 10-9 m, which is not measured by pyranometers with glass domes.
Measurement Accuracy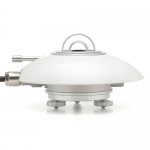 In order to improve overall measurement accuracy, Hukseflux effectively targeted two major sources of measurement uncertainty: calibration and "zero offset a". The initial calibration uncertainty is less than 1.7 %. The "zero offset a" specification of SR22 is 5 W/m2 unventilated. Ventilated (with VU01) it is just 2.5 W/m2.
SR22's low temperature dependence makes it an ideal candidate for use under very cold and very hot conditions. The temperature dependence of every individual instrument is tested and supplied as a second degree polynomial. This information can be used for further reduction of temperature dependence during post-processing.
Suggested Use
Scientific climatological observations
Reference instrument for comparison
Extreme climates (tropical / polar)
Areas of Application
Meteorology / surface energy flux measurement
Solar energy / PV system performance monitoring
Accessories
Specifications
Measurand
hemispherical solar radiation
ISO 9060:2018 classification
Spectrally flat Class A (secondary standard)
IEC 61724-1:2017 compliance
Class A (when used with VU01)
Application
National Meteorological Networks, meteorology / climatology, other
Calibration uncertainty
< 1.7 % (k = 2)
Zero offset a
5 W/m² unventilated and 2.5 W/m² ventilated
Calibration traceability
to WRR
Spectral range
190 to 4000 x 10⁻⁹ m
Spectral selectivity
< ± 2 % (0.35 to 1.5 x 10⁻⁶ m)
Sensitivity (nominal)
15 x 10⁻⁶ V/(W/m²)
Rated operating temperature range
-40 to +80 °C
Temperature response
< ± 1 % (-10 to +40 °C)
< ± 0.4 % (-30 to +50 °C) with correction in data processing
Temperature response test of individual instrument
report included
Directional response test of individual instrument
report included
Temperature sensor
Pt100 or 10 kΩ thermistor
Heater
1.5 W at 12 VDC
Standard cable length
5 m
Version order codes
SR22-T1, SR22-T2
Options
• Longer cable, in multiples of 5 metres
• Ventilated with VU01 ventilation unit
Frequently asked questions