Description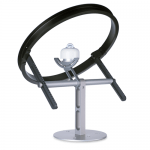 SHR02 is a practical metal shadow ring that helps making diffuse solar irradiance measurements with pyranometers. The shadow ring, also known as a shadow band, prevents direct radiation from reaching the pyranometer. The combination of a shadow ring and a pyranometer is called a diffusometer by the ISO 9060:2018 standard. The compact SHR02, combined with a Hukseflux pyranometer, has several advantages over competing models.
SHR02 is compatible with most Hukseflux pyranometers. Hukseflux pyranometers have very low zero offsets, so that the diffuse radiation measurement has a better uncertainty than that of competing pyranometer-shadow ring diffusometers. To avoid problems with dew and frost deposition, the user should consider using the heated SR25 or the heated and ventilated SR30 pyranometer.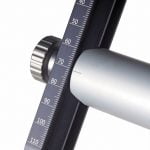 A diffuse horizontal irradiance (DHI) measurement with a pyranometer-shadow ring diffusometer is usually combined with a pyranometer-without a shadow ring. The latter measures the global horizontal irradiance (GHI). Combining GHI and DHI with local solar position, the direct normal irradiance (DNI) can be estimated. Most shadow rings are used with the pyranometer mounted horizontally. The incorporated tilt adjustment stage enables the diffuse irradiance to be measured in a tilted plane. The height of the ring is adjusted manually by adjusting the sliding bars to correct for the changing altitude of the sun.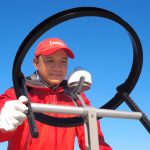 The altitude of the sun varies throughout the year and this influences the shadow cast by the shadow ring. Aside from adjusting the shadow ring on a regular basis to compensate for this, it should be taken into account that part of the diffuse radiation obscured by the shadow ring will change. Hukseflux provides a specifically tuned model that will aid the user in setting up the SHR02 without the need for in-depth knowledge of diffusometers. In the SHR02 manual a set-up table with required correction factors for the measured diffuse radiation is provided, for a range of latitudes and declinations. The manual also provides theory for creating individual models when higher accuracy is required.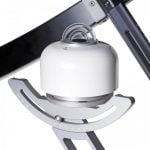 Using SHR02 has Several Advantages:
Relatively small size / light weight
Low-investment alternative for a sun tracker with shading-disc
High accuracy when used with Hukseflux (low zero-offset) pyranometers
Save costs on expensive external ventilation; compatible with SR30 with internal ventilation
Compatible pyranometers are SR15 series and SR30-D1. With the optional mounting adapter also models SR20, SR20-D2, SR22 and SR25 can be combined with SHR02 to form a diffusometer. A pyranometer is not included in SHR02 delivery.
Suggested Use
meteorological observations
building energy performance
solar energy studies
Areas of Application
Meteorology / surface energy flux measurement
Solar energy / PV system performance monitoring
Specifications
| | |
| --- | --- |
| Function | forming a diffusometer when combined with a pyranometer |
| Diffusometer measurand | diffuse solar radiation in W/m² |
| Instrument compatibility | SR30, SR15 pyranometers (recommended), SR25, SR22, SR20 pyranometers (with optional mounting adapter) |
| Diffusometer zero offset a | with SR20: 5 W/m² |
| Use with heating | with SR30 and SR25 |
| Use with ventilation | with SR30 |
| Ring inner diameter | 476 x 10⁻³ m |
| Ring profile | U-profile |
| Weight | 3.75 kg |
| Ring width/radius ratio | -40 to +80 °C |
| Field of view angle | 10.6 ° |
| Material | anodized aluminum |
| Rated operating temperature range | -40 to +80 °C |
| Pyranometer tilt angle range | -90 to 90 ° |
| Bubble level | included |
| Leveling screws | included |
| Required adjustment interval | according to adjustment table |
| Application of correction factors | user responsibility |
| Options | mounting adapter for SR20, SR22 and SR25 |
Frequently asked questions