Thermal Conductivity Testing
Hukseflux not only supplies instruments, but offers testing services such as material characterization. We are equipped to perform measurements for customers in our own material characterization laboratory. Services involve thermal conductivity, contact resistance and thermal resistivity testing.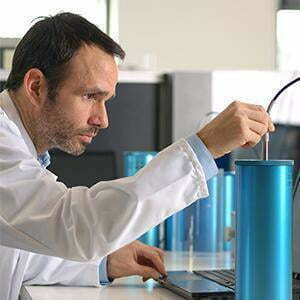 Soil Thermal Resistance Measurement
How to guarantee the quality of soil thermal conductivity measurement?
Hukseflux developed traceable reference materials (Calibration Reference Cylinders) which are adapted to the needles that are used for soil thermal resistance measurement.
Paint Thermal Conductivity Measurement
Measurement of thermal conductivity of thin layers, for instance paint, is a challenge!
Traditional methods lead to measurement results that are too low because the contact resistance is part of their measurement. Hukseflux has the means to analyze without significant contact resistance. Our lab carries out thermal conductivity measurements of thin layers of insulating paint for many of the world's paint manufacturers.